Your employees are your most valuable asset. Besomebody Paths give them the skills they need to succeed.
Sourcing.
Targeted, personal, conative recruitment of candidates passionate about your business.
Training.
Hands-on, skills-based curriculum taught by industry experts and tailored for your jobs. 
Marketing.
Content-driven marketing and social media campaigns that celebrate your company and showcase your careers.
Our goal is provide you with significant cost savings, higher retention rates and better business results.


A Complete Assessment
and Training Platform.
It's time to retire the one-page resume. We all know that passion, skills and experience are the recipe for professional success. Our
Path Manager™

gives you access to a complete assessment of all candidates in your pipeline, including ratings of their skills and core values, as well as their fit for the job. Once hired, you can continue to develop your employees with access to more tiers of training that are customized for your business's needs.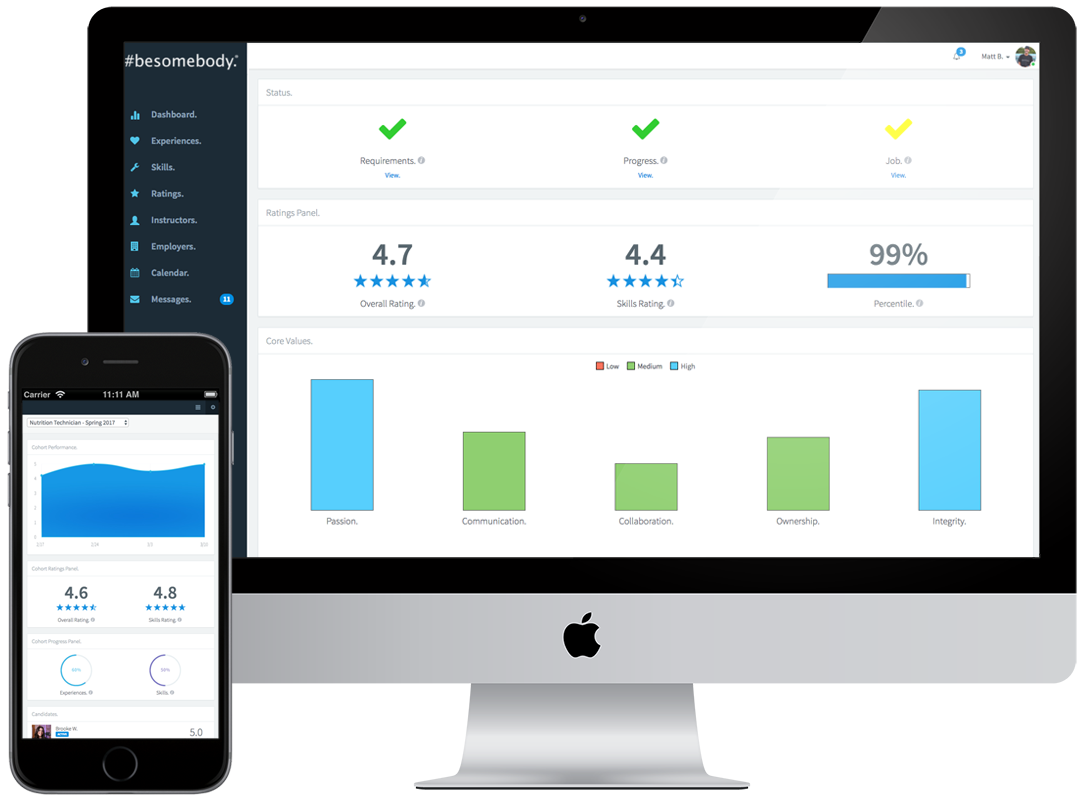 How it Works.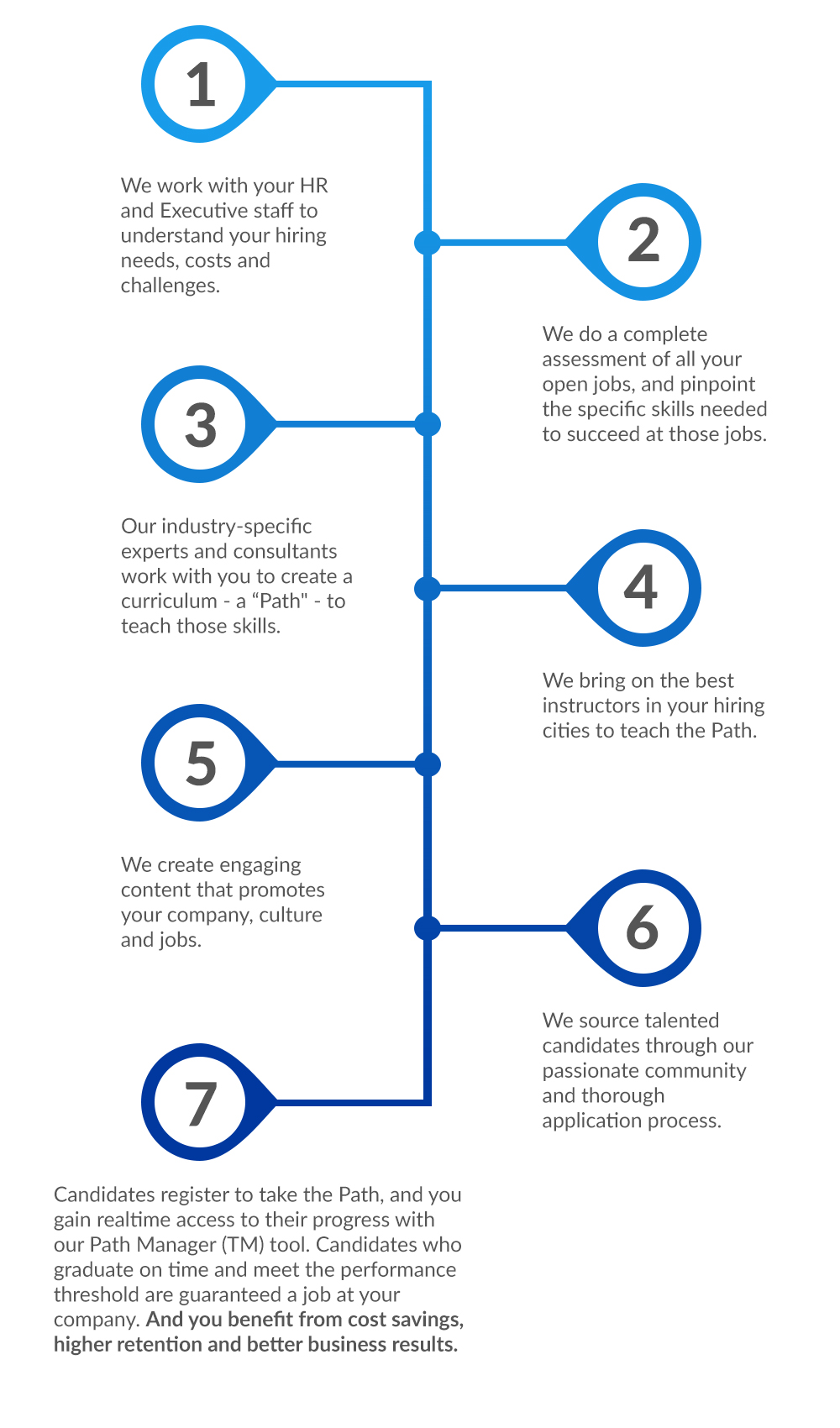 Frequently Asked Questions.
How do I request a Besomebody Path for my company?
We are currently bringing on select employers to participate in pilot programs across the United States. Request an invite and/or setup an introductory call with one of our team members here.
How do I know if your Besomebody Path program is good for my company?
If you are actively hiring employees who require specific skills training, Besomebody Paths can be a great enabler for your business. Vocational jobs and/or positions that are best learned through hands-on, on-the-job training are ideal. Our Paths give exceptional Candidates a faster, less expensive, higher quality option than many traditional alternatives. As the Endorsing Employer, you decide the skills needed and you customize and approve the curriculum. You also get real-time performance ratings and reviews for all Candidates in your Path(s).
How does my company manage the Paths?
As an Endorsing Employer, you and your team gain full access to our Path Manager™, an interactive dashboard that provides you with all the information, insights and intel you need on Candidates in your Path. No more relying on a (archaic) paper resume. With our platform you can understand and evaluate the skills your incoming employees have, as well as see how they rank against our fundamental Besomebody Core Competencies (BCC's)™. Request a demo here.
How would you design and execute the Paths for my company?
First, we meet with you to understand your job openings, hiring process, and the skills needed for your available jobs. Then, we bring on the best instructors - professionals in the field - within your hiring cities to teach those skills. Finally, selected Candidates learn through a series of in-person experiences - all of which teach the specific skills you've mandated, and all of which are rated and reviewed by the Instructors - until they complete the Path. Candidates that graduate the Paths on time and meet the pre-established performance requirements are placed in a job with your company.
How will Besomebody Paths save my company money?
Our extensive research of hundreds of companies across dozens of high-growth industries have revealed that recruiting, hiring and training costs represent one of the largest line items on the internal expense sheet. We bring top Candidates to you, and, most importantly, we bring them in trained with the skills they need to deliver on day one.
How will Besomebody Paths get my company better trained talent?
Your company (CEO, HR, hiring manager, etc) sets the skills plan. Then we bring on industry experts to train Candidates on those skills. For example, our Hospitality Paths are led by some of the best chefs and restaurateurs in the city. And our Nutritional Technician Paths are led by Registered Dietitians. 100% of the Paths are in-person, practical, experiential learning - no theory or lectures, just skills and real-life problem solving.
How do you ensure the quality of the Instructors?
Our Instructors go through a rigorous hiring process, and are vetted by Endorsing Employers. They have demonstrated success in the workplace, and proven results in their career. We emphasize professional acumen over educational background, as we have learned that there is not always a correlation between the two.
What is the cost (to Employers) to participate in the Paths?
There is currently no cost to Employers selected to a Path pilot program. Request an invite or setup an introductory call here.
What is the duration of a Besomebody Path?
The duration of each Path varies depending on the number of skills learned and the hiring urgency of the Endorsing Employer. Currently, our Path pilots run between 4-12 weeks.
Which industries are the Paths available?
We are currently conducting Path pilots across the United States in six exciting, high-growth industries - Healthcare, Wellness, Hospitality, Environment (Energy), Animals (Animal Care) and Automotive. We chose these industries based on several criteria, including job outlook, vocational approach and passion area of our community members. If you're a company within one of those industries, or if you are within another industry that you believe is a good fit, please request an invite or setup an introductory call here.
Are the Paths limited to certain locations or cities?
No. We can create and execute Paths anywhere in the United States that you have hiring needs.
What commitment does my company need to make to participate?
During our pilot, there is no cost to Endorsing Employers. The only required commitment is a specific number of job openings and guaranteed Candidate hirings. Graduating Candidates who finish on time and meet performance standards will be guaranteed a job at your company within 60 days of completion.